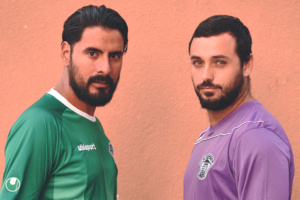 FC Olympique 13 today announced that PSL Team Sports will become the club's Official Technical Sponsor. PSL will be supplying the club with fantastic new kits, training-wear and a lot more, produced by german brand Uhlsport.
PSL are a Scottish-based retailer who work with a lot of big clubs from Scotland including Motherwell FC and Lewis Fraser's boyhood team Hibernian FC. The club's official sponsor 'Hungry Monkey' will also adorn the kits which are of great quality and gives the team a fantastic look ahead of the new season.
Owen Wright, FC Olympique 13 Media & Marketing Executive, said: "After meeting Alan Provan, Managing Director of PSL at Hibernian FC and seeing the fantastic work he's done in their official club store we were determined to get the quality that we know of PSL into our club here in Gibraltar."
"It was then working with Frank Bannigan, Director Football Sales at PSL that we were truly impressed with the professionalism of PSL. They were great with us in choosing the right look for the club this season, an important season where we want the right results off the pitch as well as on. I can't speak highly enough of Frank and the hard work he's put in for us. I'm delighted to have PSL involved for the exciting season ahead."
We're hoping to make the fantastic new club kit available to purchase in the near future. Watch this space.